Welcome to Subaru of Keene
Serving our Mass customers since 1983
Subaru of Keene is a Regional Subaru Dealership and proudly serves Subaru owners from Massachusetts, New Hampshire and Vermont as well as other surrounding states.
The map below shows where our Massachusetts customers came from in 2011. If you are wondering why, here are at least 5 reasons Vermonters come to Subaru of Keene to buy and service their Subarus. Why not you?
Please call us at

888-466-1070
and learn more about what we can do for you today.
Map represents where our recent Mass customers came from.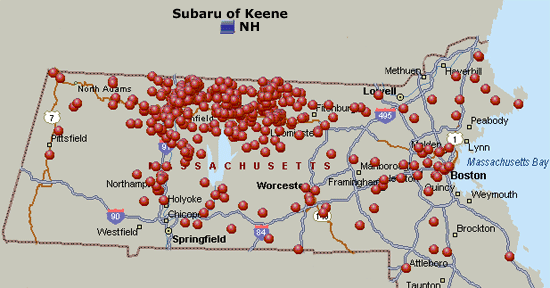 Source: Data Certified by ADP Client Services
1. VALUE
ALL this and MORE
at NO COST TO YOU
FREE Mass State Inspections for as long as you own your Subaru (Just send us the bill.)

No Appointment Oil Changes (Just drop on by)
No Parts or Service Sales Tax - saving our Mass customers 6.25%
Car Wash with Every Service
FREE Paintless Dent Repair for 6 Months
Shuttle Service and FREE Loaner Cars
Quarterly New Owner's Clinic
PRICELESS
Any dealer can beat another dealer's price by $100, but it's what happens AFTER the sale where the real differences take shape. Price is what you pay the day you buy your car. Value is your cost over the life of ownership. If you are price shopping other dealers or brands, consider
BOTH PRICE AND VALUE
and you will see why Subaru of Keene will give you a GREAT DEAL and the
BEST VALUE
for your money -
GUARANTEED
!
I am fairly new to the New England area and wasn't familiar with Subaru of Keene until my bank manager recommended them. She knew I was in the market for a new Outback. She said it was worth the extra drive to check them out. Prior to talking to my bank manager, I had only checked two dealers closer to me, but was discouraged by the limit inventory and the fact they had no manual transmission cars in the model and style level I wanted. (2.5i Premium with the all weather package). When I looked at Keene's website, I found exactly what I wanted so I called. The salesperson I spoke to was professional and courteous and willing to work with me. I warned him that I had at one time sold cars and that we would be speaking the same language. I made the hour and a half drive, traded in my 2003 Subaru and came home with exactly what I wanted at the price I wanted to pay. If they aren't close to you, don't let that stop you - they were worth the trip.
Clancy Shuman



WHAT CAN WE DO FOR YOU TODAY?

QUESTIONS ABOUT BUYING OR SERVICING A SUBARU? PLEASE CONTACT US USING THE FORM BELOW OR CALL US AT 888-466-1070.
Make an Inquiry
Directions to Subaru of Keene
FROM:
Northfield - 20 mi
From Winchendon - 24 mi
Orange - 27 mi
Gardner - 33 mi
Greenfield - 37 mi
Lunenburg - 37 mi
Deerfield - 41 mi
Leominster - 43 mi
Amherst- 44 mi
Northampton - 46 mi
Shrewsbury - 55 mi
Acton - 56 mi
Pittsfield - 59 mi
W. Springfield - 61 mi