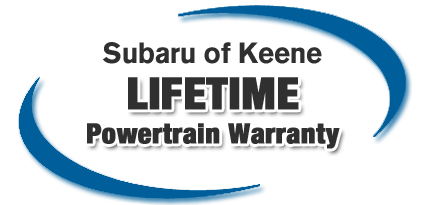 For your protection and peace of mind.

Subaru of Keene is committed to covering the powertrain of your new Subaru forever!
Program covers repairs to components of the engine, transmission, and drive axle.
Program is offered FREE (and EXCLUSIVELY) to Subaru of Keene customers with the purchase of a new Subaru.
No time limit.
No maximum number of claims.
No aggregate dollar claim amount per life of contract.
Maintenance and warranty repairs may be done at ANY licensed facility.*
*Customers
MUST
follow manufacturer's suggested maintenance schedule and retain receipts for all maintenance. Any warranty work must be pre-authorized with warranty company. See dealer for complete details.
It's no wonder our customers come from all over
NH, Vermont, and Mass!


Frequently Asked Questions

What cars are eligible for the program?
All new Subarus sold by Subaru of Keene.

How much does the Lifetime Powertrain Coverage cost?
There is NO COST to the program; it's exclusive to Subaru of Keene and part of the value added services we offer to all our customers. It is provided free of charge with every new car purchase.

What is covered by the Lifetime Powertrain Coverage?
Comprehensive coverage for repairs to components of the drivetrain, engine, transmission, and drive axles.

What are the requirements?
All you have to do is what you have to do anyway. Simply maintain your vehicle (including all oil changes and tire rotations) according to Subaru's Recommended Service Schedule (+/- 1,000 mile tolerance) to get it done. While you may have your servicing done at any qualified repair facility, we highly recommend you come to Subaru of Keene for service to give our technicians opportunity to inspect and head off any problems BEFORE they become catastrophic. Wouldn't you rather have a Factory-Trained Technician check your car over 3-4 times a year than an entry-level technician at a quick lube? We are sure you will enjoy our state-of-the-art drive-thru Service Department and no appointment oil changes. Subaru of Keene is the only AAA approved Subaru dealership serving the tri-state area with a 98% customer satisfaction rating.

Is the coverage transferable (to a new owner)?
No. However, should you trade in your car or sell it privately, knowing you participated in the program with your oil changes and tire rotations should increase the value of your car. You can even track all of your maintenance work online. Please ask us for details.

Aren't you just going to mark up your service prices? NO!
Our service prices are very competitive. For example, when you bring your Subaru in to Subaru of Keene for an oil change, you get more than new oil. We:
- Change oil and filter and drain plug gasket with Genuine Subaru Parts.
- Check and top off all fluids
- Set tire pressure (very important for an AWD vehicle)
- Replace the drain gasket (Most "Quick Lube" places reuse the gasket, which is not recommended by Subaru.)
- Check for leaks
- Check drive axle and suspension
- Wash your car before turning the car back over to you.
- Offer drive-thru Service Dept, 24 hour drop-off service, a wait service, free shuttle, or even a loaner

 
If I have servicing done elsewhere, what documentation do I need to keep?
Certainly one advantage of servicing your car at Subaru of Keene is that we maintain all of your service records electronically. If you have your service work performed elsewhere, you MUST KEEP EVERY RECEIPT to validate that all services were performed as required for your vehicle.

Are there any other benefits?
Knowing that their car is covered by a Lifetime Powertrain Coverage, Subaru owners are more likely to maintain their vehicle rather than deferring important maintenance and repairs. This will either allow you to keep your car longer or it may help increase your trade value knowing that it was well maintained.

* Turbos, 6 cylinder, and synthetic oil pricing higher. Monthly discount coupons are generally available.
| | |
| --- | --- |
|   | If you live in VT or Mass, you'll save even more with TAX-FREE service and repairs at Subaru of Keene! |
WHAT CAN WE DO FOR YOU TODAY?
Sales Dept Hours
Monday

8:00AM - 7:00PM

Tuesday

8:00AM - 7:00PM

Wednesday

8:00AM - 7:00PM

Thursday

8:00AM - 7:00PM

Friday

8:00AM - 7:00PM

Saturday

8:00AM - 5:00PM

Sunday

Closed
Make an Inquiry
* Indicates a required field