The 2021 Subaru Love Promise Customer and Community Commitment Award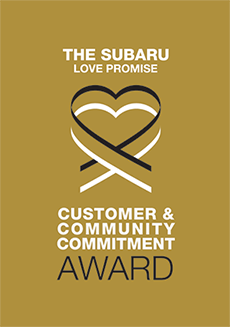 We've been nationally recognized for our dedication to our customers, our community, and the Subaru Love Promise.
We're honored to receive the 2021 Subaru Love Promise Customer and Community Commitment Award. This award nationally recognizes elite Subaru retailers who provide an exceptional customer experience at every interaction with Subaru. These retailers have also demonstrated an outstanding commitment to supporting passions and causes in their local communities in important areas such as the environment, community, health, education, and pets.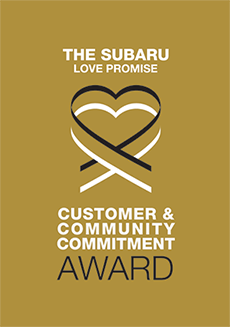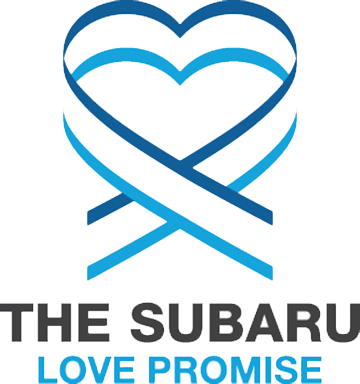 What is the Subaru Love Promise?
Subaru and our retailers believe in making the world a better place and the Subaru Love Promise is our vision of respecting all people. This is our commitment to show love and respect to our customers and to work to make a positive impact in the world.
How is Subaru of Keene dedicated locally to the Love Promise?
Our Love Promise can be seen in various partnerships with local charities and non-profits. We're grateful for the opportunity, not only to be a part of our community, but to serve it as well.
Keene High School Auto Program
Keene Community Kitchen, Hundred Nights
Monadnock Family Services
Love Promise Stories from Subaru of Keene
Subaru and Subaru of Keene believe in making a positive impact on the communities in which we live and work. We uphold that belief through our Love Promise Community Commitment. Every month, we select inspiring stories from customers and partners from around our area who strive to support our collective commitment and feature them here
SHARE THE LOVE and a Trauma Informed Community - Kathy W
Thanks to the generous Share the Love donation from Subaru of Keene to Monadnock Family Services (MFS), a new public health initiative is taking shape. As part of the region's Community Health Improvement Plan, MFS and other partners in the Leadership Council for a Healthy Monadnock is working to make the region a place that is addressing the root causes of trauma. Trauma is "an emotional wound or shock that creates substantial lasting damage to the psychological development of a person." We are building a trauma informed community. In collaboration with a broad cross-section of the community, we will raise awareness about the impact of trauma and the paths people can take for their recovery. We will help providers of care and family members to become more competent in their efforts to help victims. Our project is called the "Monadnock Assembly on Trauma and Transformation." The pain and harm people feel from violence, racism, poverty, alienation or a tragic life event can be the traumatic cause of many serious health problems. Our goal is to make sure our Region offers victims a variety of safe, person centered, multi-dimensional service and supports that promote resilience and post traumatic growth. Monadnock Family Services, through the Monadnock Assembly will offer the public educational programs and resources so that we all can build up a community of safety, trustworthiness, empowerment, collaboration, and peer support in a culture rich in diversity, equity and inclusion. Share the Love will get us on our way, thanks to Subaru of Keene.
---
Subaru Loves Pets: Finding the Right Place - Kelly S
Lonnie (formerly Zeke), a six-year old cat came to Monadnock Humane Society with deformed front legs. Although he was shy, fearful and required a home that didn't have stairs that would impede him from his food and litterbox, that home was found during the Subaru/ASPCA loves event! On 10/7/2020 Zeke was adopted by a loving family. Late in October the family shared the following: "I just wanted to send you all a note to say that sweet Lonnie (who was Zeke in your care) is settling in! With some cat pheromones and his own space, he has now come out from beneath the bed and explored just about every space in the house. He is playful when the house is quiet, and reserved when my 2 young boys are running around. His head butts are impressively strong, and his deformities don't deter him from walking or darting to wherever he wants to go! He also gives kisses to my husband. It's adorable. He has recently allowed my 4 year old and 16 month old to approach and pet him without searching for safety. They have learned to be very sweet and gentle with him! He loves his catnip banana, laser, and cat tower. He also relaxes with his legs splayed upside down, which we think is hilarious, and seems to really enjoy sitting like a human on the stairs. Thank you for entrusting him to us! He is a doll." MHS would like to thank the team at Subaru of Keene and our adopters who made this event a great success! Thanks to you over 75 animals were adopted!
---
Wrapped in Love - Nicole W
On November 5, 2020, as part of the Subaru Loves to Help Initiative and in recognition of National Homeless Youth Awareness month, Subaru of Keene donated 80 insulating fleece blankets to Hundred Nights Shelter in Keene. This generous donation will keep shelter guests from the Monadnock Region warm as the weather grows colder, as part of a larger safety net for individuals and families who have nowhere else to turn. This donation comes at a critical time, as the ongoing public health and financial crisis have threatened the wellbeing of many in our community. More people than ever are now at-risk for losing their apartments or homes, which makes this recent gift especially important. With Subaru's ongoing support, Hundred Nights is able to ensure resources remain available to protect those experiencing homelessness during this global crisis and work with people of all ages to get back into safe, permanent housing. Thank you, Subaru!
---
Subaru of Keene Raises $1,820 for Cancer Patients - Keely F
Subaru of Keene has a close relationship with many local organizations in the greater Monadnock area, including the Norris Cotton Cancer Center located in Cheshire Medical Center in Keene, NH. In the past, Subaru of Keene has participated in the Subaru Loves to Care program to deliver blankets and other care items to the patients at NCCC. This year, the need of the beneficiaries of this program increased in a more dire way, especially financially which is to say keeping fuel in their gas tanks and food on the table. So, to help, every time Subaru of Keene leased or sold a vehicle, new or used, in the month of September 2020, they donated a $20 gas or grocery card to the Norris Cotton Cancer Center to be distributed to the people who are in need of these resources during this unprecedented time. Subaru of Keene ended up raising $1,820 in gas station and grocery store gift cards, which will help people facing the compounded crisis of a cancer diagnosis/treatments AND the fallout of COVID-19 make it to the hospital for appointments, visits, and to keep eating healthy food! Subaru of Keene was honored to have been able to do something for the people who are among the most vulnerable in their community during the time when they need it most, and looks forward to working with the Norris Cotton Cancer Center more in the future!
---
How to host a successful golf tournament in 2020! - Phoebe B
In 2020 we should have been celebrating our 28th (yes your read that right - 28th) golf tournament hosted by Subaru of Keene, part of the Fenton Family of Dealerships. As we all know now 2020 dawned like pretty much every other year and quickly turned into a year like no other. We had already started to plan the tournament but put it on hold at the end of February so that we could decide what to do. We decided to postpone until September, giving us time to figure out how to hold a tournament given the safety parameters and guidelines put in place. Our golf committee worked hard all spring and summer and sponsorships were very encouraging and golfers were calling to ask when they could sign up for their tee times! The day of the tournament dawned with blue skies and sunshine, people arrived in plenty of time to tee off, buy mulligans and raffle tickets and wore masks as if it was the norm (as it is becoming). We were so pleased that the whole day went off without a hitch. Having a relationship with Subaru of Keene has meant a lot to us and the $42,279 we raised will help keep our small donation funded food pantry and soup kitchen running for almost a month!
---
Subaru of Keene Loves to Learn Initiative - Scott S
Keene, NH– After participating in Subaru of America's (SOA) month-long initiative, Subaru Loves Learning, the staff at Subaru of Keene had the great pleasure of delivering 150 award-winning science textbooks last week to over a dozen Keene High School science teachers and students. Every August, SOA and the American Association for the Advancement of Science's (AAAS) team up to donate the latest, most engaging science books to K-12 schools across America, giving students of all ages and abilities the chance to explore and ignite a greater interest in the sciences. At the same time, the Subaru Loves Learning initiative helps fill public school libraries with quality, up-to-date Science, Technology, Engineering and Math (STEM) literature: a win-win for all! Keene High School Principle, Mr. Logan, the science teachers and members of the student science club were pleased by the selection and quality of books, which included 2019 award-winners such as Built: The Hidden Stories Behind Our Structures, by Roma Agrawal; Alexander Graham Bell for Kids: His Life & Inventions With 21 Activities, by Mary Kay Carson; and Iqbal and His Ingenious Idea: How a Science Project Helps One Family and the Planet, by Elizabeth Suneby, to name a few.
---
Keene Housing Kids Collaborative Donation - Liz C
Thank you so much to Subaru of Keene for making the Keene Housing Kids Collaborative part of the 2018-19 Share the Love event! With your support, kids living in Keene Housing households will be able to participate at no cost in activities in the community that will give them the tools to succeed. Last year, 276 kids participated in nearly 700 activities in art, athletics, and academics. These out of school activities give kids a chance to develop confidence, perseverance, self-control, communication, teamwork, and resilience – all of which will help them succeed in school, at home, and in the community.
---
Hundred Nights Shelter Check Presentation - Scott S
Subaru of Keene was pleased to present a check for $13,657 on April, 26th 2018 to Hundred Nights as a result of proceeds raised during the 2017-2018 Share the Love event that ran from November 16, 2017, to January 2, 2018. For every vehicle sold in this time, $250 was donated on the customer's behalf to Hundred Nights or another charity of their choosing. Hundred Nights is a shelter and resource center in downtown Keene, NH and is open during the coldest months of the year for those in need. The organization has 26 beds and also uses the United Church of Christ of Keene when needed as an overflow site, which adds another eight to 10 beds. The funds raised during this event helped to buy a much needed new washer and dryer for Hundred Night's facility as well as helped cover rent and staffing costs throughout the year. When Executive Director, Mindy Cambiar, found out in October 2017 that the shelter was chosen as Subaru of Keene's "Hometown Charity" for the annual event, she told the local paper it was a great relief and added that it boosted morale at the shelter over the winter knowing they'd get assistance to help cover their growing rent costs at the shelter.
---
Subaru Loves to Care - Laura W
On July 12, 2018 Subaru of Keene delivered warmth and hope to cancer patients at Dartmouth Hitchcock Norris Cotton Cancer Center in Keene, NH. The nurses and staff along with the community are grateful for the support of Subaru of Keene. The blankets and messages of hope cards will help continue to spread love and strength to those battling cancer. The Leukemia and Lymphoma Society is proud of our partnership and all you do for the local community!
---
17' Subaru Loves Pets Adoption Event - Carol L
On October 28th of this year, Monadnock Humane Society and Subaru of Keene partnered to create an adoption event for the community through a grant we received from ASPCA. It was a great day for all of us – there were games, refreshments, adoptable pets at Subaru of Keene, and the Bathe-to-Save bus was there. In addition to the fun aspects of the event, there were over 14 Happy Tails – adoptions of pets who have been waiting a long time. One of our happiest tails is that during this event, a pair of bonded chinchillas were adopted! These are very unique pets and sometimes finding the right pet parent is challenging. We also loved the happy tails of families coming in together and finding that new family member to love. Perhaps the most significant happy tail is that a number of pets who have been waiting a long time were able to go home thanks to this event! While it was wonderful to be able to find new homes for these pets who have been waiting a long time, I believe the experience of working with the staff at Subaru of Keene was one of the best things about the event. They were enthusiastic through the entire process – always willing to help us, always working to make the event a success, and looking for new ways to help us raise money. They were the driving force behind having the Bathe-to-Save bus there. I can't say enough about Karyna Vargas, who kept things moving and organized. She is a treasure. The entire Subaru team was amazing to work with and they truly wanted to help pets find new families. It was always the main reason for doing this event. This event forged an even stronger relationship with a community business, and for that we all are very grateful! --- Carol Laughner, Director of Marketing and Development
---
Spreading Warmth and Love to Cancer Patients - Amy H
On 07/17/2017, the team at Subaru of Keene delivered blankets and craft kits to to Norris Cotton Cancer Center as a part of the Subaru Love Promise initiative in partnership with the the Leukemia and Lymphoma Society. These items, along with cards of hope from Subaru of Keene clients really do help to spread warmth and love to cancer patients. Thank you Subaru of Keene for your generous donation!
---
25th Community Kitchen Golf Tournament A Success! - Karyna V
We got very lucky with the weather on Monday, June 5th 2017 for Subaru of Keene's and the Fenton Family Dealerships' 25th Annual golf tournament to benefit the Keene Community Kitchen. It looked like it was going to be a washout, but the rain held off and we had a great day. Over 150 golfers and volunteers were in attendance, making this event the Keene Community Kitchen's single largest fundraising event of the year. The preliminary results indicate Subaru of Keene and the Fenton Family Dealerships raised about $40,000 in funds from this event! That will buy over 28,000 hot meals or cover up to 3-4 months of operating expenses for the kitchen! Thanks to everyone who volunteered, golfed or sponsored at our 25th annual golf tournament and silent auction! We are so grateful for all of the support and generosity given to make this event a success each year. We also want to thank those who donated to the separate "Stove Fund" to help the kitchen get a much needed new commercial range. We are still compiling that figure, but it is enough for them to get a much needed new stove! For more information, please visit the Community Kitchen's website (www.thecommunitykitchen.org).
---
Toy Drive - Big Brothers Big Sisters of NH - big brothers big sisters nh b
NH's largest donor and volunteer supported mentoring network, Big Brothers Big Sisters of New Hampshire makes meaningful, professionally supported matches between adult volunteers (Bigs) and children (Littles), ages 6 through 17, in communities across the state. They have over 20 site-based programs across the NH where most Bigs and Littles meetup to play and build their mentoring friendships; friendships that ultimately pave the way for brighter futures and better schooling for the children and stronger communities for all. However, their site-based programs are stocked solely with donated toys, crafts and games and in 2016 their supplies were starting to run low and toys were starting fall apart or lose pieces. So in December of 2016, Subaru of Keene along with Fenton Family Dealerships held a Toy Drive for Big Brothers and Big Sisters of NH and collected over 100 toys, books, games and craft supplies to replenish all their NH locations. Special Programs Coordinator, Karen Brook was completely blown away by the Toy Drive results and shared what a huge help this was for all of them in the winter months, adding how the donations will get lots of use from both the Bigs and Littles.
---
Share the Love – Rise for Baby and Family - rise for baby and family keene r
Subaru of Keene was pleased to present a check for $12,869 on April, 11th 2017 to "Rise for baby and family" (Rise) as part of their ongoing support of the local community. Rise provides family-centered early supports and services for babies with special needs in addition to offering a high-quality child-care and play groups since 1981. They now serve more than 250 children age's birth to 3. To show gratitude for all that Rise has done for families over the years, Subaru of Keene made Rise their "Hometown Charity" for the "Share the Love" fundraising event in November of 2016. Subaru of Keene was thrilled to see a large portion of customers chose to support Rise during this event. Executive Director Toni Ellsworth said she was truly grateful for the amount of funds raised during this event. "With their support, we will continue our mission to help babies' one family at a time", she added.
---
Make A Wish for Landon - Landon N
We would like to take this opportunity to thank all of the employees of Subaru and the parent company for their generous donations to the Make A Wish Foundation and the New Hampshire Chapter. Because of your donations a local boy [made] his dream vacation in Disney World come true! This little boy is Landon Nash. He was born with a birth defect called CHARGE Syndrome and the doctors told the family that they did not know if he could see, hear or learn. With the love of his family, he has overcome the odds, and attends Mt. Caesar School. He is in second grade and everyone in the school knows and loves him! Landon was selected to be featured in a book titled "Children of Special Needs Under the Friendship Tree", and the publication was kicked off by a book signing event at Monadnock Regional High School. The entire student body, teachers and administration from Mt. Caesar attended, along with the author and illustrator, and everyone was able to shake hands with Landon, and congratulate him on being the star of the book. This has been an exciting year for him, and culminated in his dream vacation to fly with his family to meet Mickey Mouse, and because of all of you, his wish [came] true this November. He [took] lots of pictures, [bought] surprise toy packages and [got] to meet Mickey Mouse! Because of you, this all came true. With thanks from the bottom of our hearts, The Nash Family,
---
Hot Meals Delivered on Cold Day - Susan A
On the coldest day of the year so far, Subaru of Keene's General Manager Mike Perry and Gia Farina, manager of the local Meals on Wheels program hopped into a 2017 Venetian Red Subaru Outback to deliver meals on wheels to a rural community outside of Keene, New Hampshire. The minus 7 degree temperature and the steep snow covered hills did not slow down delivery as they brought a hot meal and season's greetings to an 83 year old participant who lived at the top of a steep hill. "My doctor said that I should have the meals," said the elderly gentleman who lives alone. The meal arrived hot, and the delivery people were very comfortable despite the deep freeze in the Outback. In this part of New Hampshire, nearly half of the Meals on Wheels participants are over the age of 80 and need assistance with the basics, like getting groceries or preparing a meal. 65% of the participants live alone, and look forward to seeing the driver, who may be the only person they see all day.This is the third year that Mike Perry has generously delivered meals to support the Share the Love program. Share the Love helps the Meals on Wheels program in Cheshire County provide nearly 100,000 meals every year to seniors! Meals on Wheels is sponsored locally by Home Healthcare, Hospice and Community Services (HCS) a Monadnock United Way agency.
---