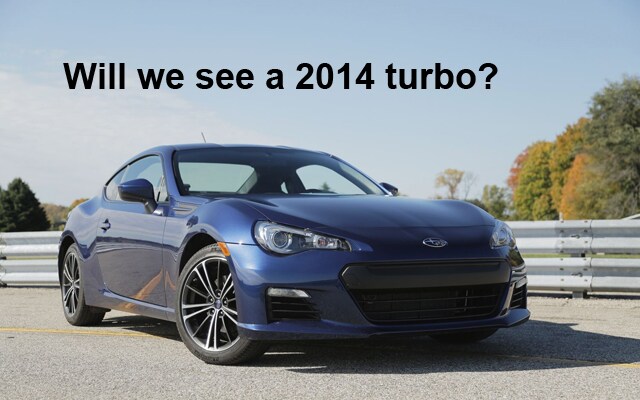 According to Automotive News
, the answer is YES!
"I knew I would love this car before I bought it. Maybe that's why I flew all the way from outside Asheville North Carolina to Keene to pick it up! I thoroughly enjoyed driving it home and over the last 6000 miles. Yes, 6000 miles in just over 2 months! The handling is superb. Provides the sense of being connected to the road. In a couple of years I can envision driving this car back to Keene to trade it in on the STi version. Hoping....Thank you for providing a wonderful buying experience". Damon N (North Carolina) - Subaru of Keene customer and owner of a BRZ 6MT Limited
 

2013 Subaru BRZ - Sub $30K Sports Car for Performance Enthusiasts 

Have you ever wondered what it would be like behind the wheel of a sports coupe with sexy eye-catching lines and perfection under the hood?
Now you can with the new 2013 Subaru BRZ sports coupe. Subaru and Toyota have collaborated to produce a new sports car with Subaru engineering and futuristic styling by Toyota.
2013 Subaru BRZ Features

BRZ PREMIUM

BRZ LIMITED
+$2,000


High-Intensity Discharge (HID) Xenon headlights

x

x

Voice-activated GPS navigation system

x

x

Bluetooth® audio streaming and hands-free phone connectivity

x

x

8-speaker audio system w/ HD radio & single CD

x

x

USB port w/ iPod® control

x

x

Leather-wrapped steering wheel, shift knob & parking brake handle

x

x

6-speed manual transmission

x

x

Limited-slip rear differential

x

x

Leather/Alcantara® upholstery



x

Keyless Access and Start



x

Dual-zone automatic climate control



x

Heated front seats/heated exterior mirrors



x

Fog lights

Accessory


x

Trunk spoiler

Accessory


x

BOTH MODELS
NICELY EQUIPPED!
HID Xenon Lights
Voice Activated Navi
Bluetooth
Audio Streaming
USB
iPod Control




OPTIONAL (ALL Models):
6 Speed Automatic Transmission with Paddle Shifters
COMMENTS:
The price difference between the Premium vs Limited models is $2,000. With the ability to ADD Fog Lights and Trunk Spoiler as accessories to the BRZ Premium, the differences between the two models are minimized, with the obvious exception of leather. However, cold weather drivers will appreciate the heated front seats and side mirrors on the BRZ Limited (not a big item in Florida) and the dual-zone climate controls may come in handy in certain situations. It's a nice feature and is available only on the Limited models.
"Everyday is joy as soon as I get in to my car.  It is one of the few joys I have every day especially after a long work day.  No matter how bad a day is, I can always get in my BRZ and all my troubles are forgotten.  I think the best part of this car is the fact that it can handle everyday things and still manages to bring a smile to my face. I hope to have many more miles in the future and let the mod bug bite".  Timothy Q (Texas) - Subaru of Keene customer and owner of a BRZ 6MT Limited.
2013 Subaru BRZ Accessory and Pricing List
(Please see notes at bottom of table.)

Click item to see image of the accessory.

EXTERIOR ACCESSORIES



 Battery Warmer 

TBD

Warms vehicle's battery for easier starting in extremely cold weather. Plugs into a household electrical outlet.



 Car Cover 

TBD

Helps protect the exterior of your BRZ.



 Engine Block Heater 
TBD
Warms engine coolant to promote easier starting in extreme cold conditions.



 Chrome Fuel Door Cover

$99

Chrome accent for your fuel door cover helps break



  Rear Bumper Applique'

$80

Clear, scratch-resistant vinyl film helps to protect bumper upper surface and leading edge.



 Rear Diffuser


$801

Lower air body panel helps to direct air flow and adds a sculpted finishing touch to the BRZ lower rear body line.



 Deck Lid Spoiler

$567

Sleek, low profile design adds just the right amount of attitude to your BRZ.



 Chrome Fender Trim 

$119

Adds a stylish touch of chrome to the fender grill panels.



 Fog Light Kit 

$386

Casts a low and wide beam of light to enhance vision in inclement weather. Std in Limited BRZ.



 Wheel Locks

$51

Helps to deter theft of wheels and tires.



INTERIOR ACCESSORIES


 Ash Tray

TBD

Fits conveniently in the center console cup holder. Easily removed to empty contents.



 Auto-Dimming Mirror w/Compass 
$205
Mirror automatically darkens when headlights are detected from behind the vehicle. Features an electronic compass with a red transflective display that projects the current direction onto the mirror's surface.



 Auto-Dimming Mirror w/Compass and Homelink

$281
Mirror automatically darkens when headlights are detected from behind the vehicle. Features an electronic compass with a red transflective display. Three HomeLink buttons can be programmed to operate most garage door openers and other HomeLink compatible devices.



 Cigarette Lighter 

TBD

Replaces the power outlet in the center console, leaving one additional power outlet in the glove box.



 Sunshade

TBD

Foldable Sunshade offers a triple layer of protection to help reduce inside vehicle temperatures up to 40 degrees. Comes with a storage bag.



 Trunk (Cargo) Tray 

$75

Helps protect cargo area from dirt and spills. Can be easily removed and rinsed clean.

AUDIO ACCESSORIES


 10" Powered Sub-Woofer

$499

Provides powerful deep bass, and also assists in clean sound reproduction from all vehicle speakers. This is achieved by its integrated 100W amplifier and a passive crossover network. The self-contained unit is manufactured for Subaru by Kicker.

PERFORMANCE PARTS


  SPT Battery Tie-Down (Blue & Gray)

TBD

Replacement battery hold down is manufactured from billet aluminum anodized in Seel Gray or SPT Blue and laser etched with SPT Logos.


 SPT Oil Filler Cap (Blue & Gray) 

TBD

Replacement oil cap is manufactured from billet aluminum anodized in Seel Gray or SPT Blue and laser etched with SPT Logos.

NOTES:
The pricing shown reflects Subaru's
factory installed suggested retail price
as shown on an actual window sticker and does not reflect what you might actually pay. If dealer installed, these accessories may be slightly higher.
It is often asked, "Why the pricing of accessories on Subaru.com is so much lower?" Accessories listed on Subaru.com are for the PART ONLY, and DOES NOT INCLUDE INSTALLATION! The above price list is much more accurate.
Prices and available accessories are subject to change w/o notice. Not all accessories are available on all models while some accessories are standard on others.
2013 Subaru BRZ Model Selection and Window Sticker Pricing
 
MODEL
MSRP
DEST*
TOTAL MSRP

DZA

BRZ PREMIUM - 6 Speed Manual
$25,495
$770

$26,265
   

DZB

BRZ PREMIUM - 6 Speed Automatic
$26,595
$770

$27,365


DZE

BRZ LIMITED - 6 Speed Manual
$27,495
$770

$28,265

DZF

BRZ LIMITED - 6 Speed Automatic
$28,595
$770

$29,365

 


 



NOTES:
   
* Subaru Press Release denotes a $750 destination charge. Subaru shows a $785 destination charge on the Subaru.com website. The actual destination charge for New England is currently $770.
   

Prices shown do not reflect any dealer or manufacturer discounts, rebates or other incentives (if available). Optional accessories extra. Applicable tax, tag, title and fees extra.
2013 Subaru BRZ Specs
  BRZ ENGINE

Type:

Naturally-aspirated Subaru Boxer 4-cylinder

Displacement:

2.0 liters (1995 cc/122 cu. in.)

Valvetrain:

Dual-overhead camshafts. Four valves per cylinder. Dual Active Valve Control System, Valiable Valve Timing

Fuel Delivery:

Direct & Port fuel injection

Horsepower:

200 t 7,000 rpm

Torque:

151 lb-ft @ 6,400 rpm

Fuel Requirement:

93-octane premium unleaded

Fuel Economy:

MT 22/30/25 AT 25/34/28 (city/hwy/combined)

  BRZ DRIVETRAIN

Layout:

Front-engine, rear-wheel drive

Stability/Traction Control:

Vehicle Stability Control (VSC); Traction Control System (TCS) with off switch

Transmissions

: 6-speed close-ratio manual transmission (standard) or optional 6-speed automatic transmission with manual shift mode and paddle shifters

Rear Differential:

Torsen limited slip

Final drive Ratio:

4.10:1

  BRZ STEERING AND SUSPENSION

Quick Type

: Electric Power Assisted Steering (EPAS)

Turning Circle:

35.4 ft.

Lock to Lock:

2.48

Front Suspension:

Independent MacPherson strut with stabilizer bar

Rear Suspension:

Independent double wishbone with stabilizer bar

  BRZ BRAKING

Power-assisted 11.6-inch ventilated front/10.5-inch ventilated rear disc brakes
Four-channel/four-sensor Anti-lock Braking System (ABS)
Electronic Brake-Force Distribution (EBD)
Brake Assist
Brake Override System

  BRZ WHEELS AND TIRES

170inch dark gray with machine finish aluminum alloy wheels with 215/45WR17 87W summer performance tires

  BRZ EXTERIOR DIMENSIONS

Overall Length:

166.7

Overall Height:

50.6

Overall Width:

69.9

Wheelbase:

101.2

Track front/rear:

59.8/60.6

Curb Weight:

MT - Premium: 2,762 Limited: 2,776
AT - Premium: 2,809 Limited: 2,822





7 Exterior Colors:

 
Dark Gray Metallic


 


World Rally Blue

 


Sterling Silver 

Metallic

*

Lightning Red


Satin White Pearl

 


Galaxy Blue Silica

*



Interior Color - Either Black Cloth (Premium) or Black Leather (Limited)

Black Cloth (Premium)



  


ORDER NOW





Black Leather Alcantara (Limited only.)

Car and Driver: BRZ is a "Knockout"



Subaru BRZ Engineering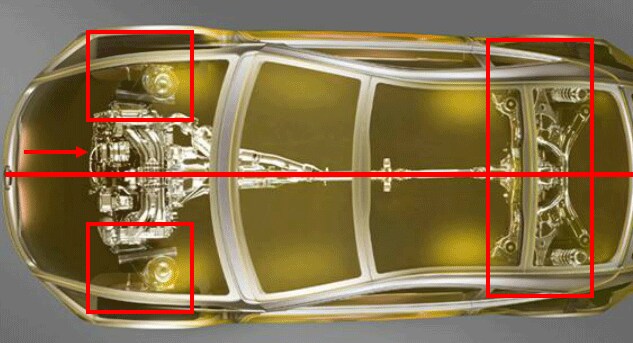 The BRZ is the world's only front-engine, rear-drive sports car powered by a boxer engine. Even though the BRZ is a joint development between Subaru and Toyota, the engineering is all Subaru. One of the key design goals was to keep the center of gravity as low as possible. Subaru's boxer engine is ideally suited for this. In the BRZ, the boxer engine is placed 8" further back and almost 4.8" lower. This is the reason RWD is required. The BRZ has a lower center of gravity than the Ferrari 458! The exceptional low center of mass provides incredible agility and directional response.

Longitudinal Drivetrain - Look familiar? The same longitudinal design is the hallmark of every Subaru and made adapting to rear-wheel drive seamless.

Suspension - Fully independent front suspension with MacPherson struts/stabilizer bar combined with double wishbone rear suspension/stabilizer bar enhances handling.

Finally, the lightweight platform at only 2,762 lbs enhances the driving experience and gets the most out of the 2.0 liter, 200hp boxer engine. The BRZ is just fun to drive!