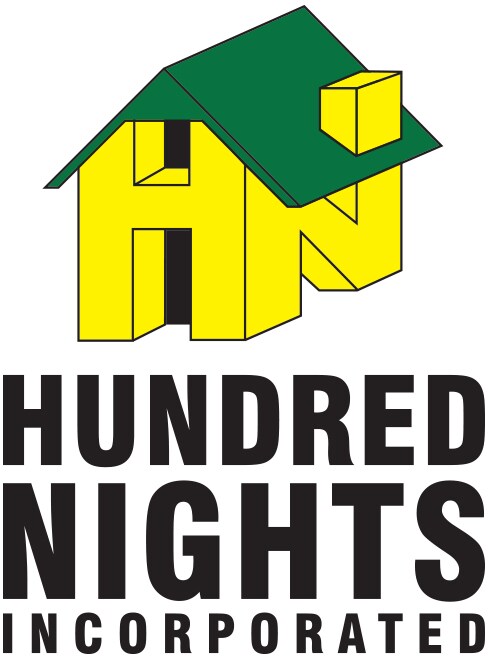 When you purchase or lease a new Subaru at Subaru of Keene between November 16th, 2017 and January 2rd, 2018 we will

DONATE $250 to one charity of your choice!
  Customers can choose between 4 nationally recognized charities (Make a Wish, ASPCA, Meals on Wheels and The National Park Foundation) as well as one featured local charity.
By the end of this year, Subaru dealerships across America will have donated over $65 million to charities across the nation!
We are pleased to announce this year's local non-profit is
Keene Hundred Nights
! Help us to reach our goal of donating over $10,000 for this wonderful local non-profit! Read on to learn what they do for our local community!
PO Box 833 | 17 Lamson St. Keene, NH 03431
603-352-5197

Hundred Nights, Inc. is a non-profit community organization with two main components:
 
1)  Provide a cold weather shelter which offers clean beds in a safe and warm space from 6:45pm to 7am during the 100+ coldest days of the year.
 
2)  Operate the Open Doors Resource Center which provides a welcoming space for people to gather for sustenance of body and spirit on a year-round basis.

The Cold Weather Shelter provides emergency overnight shelter to people experiencing homelessness between mid-November and mid-April each year. Our guests are among the most vulnerable of the population.

People come to our shelter for a variety of reasons such as:
1. Other shelters are already at capacity.
2. The individual in need may have a criminal background that prevents them from being allowed in the other shelters .
3. The 211 statewide crisis line, a police department or hospital has referred them to Hundred Nights.
4. Eviction, frozen pipes, release from jail, lack of sufficient resources to provide for one's own housing.
5. A struggle with substance misuse and/or mental health issues.
 
Between January 1 and June 30, 2017 there were 153 people who received a total of 4,262 bed-nights of shelter. Services were provided to a diverse population of 106 males and 47 females, including 5 veterans, 15 children under the age of 13 and 15 people over the age of 55. The number of children tripled from the previous year, while the number of veterans was cut in half.
 
The Open Doors Resource Center opened as a means to provide a hospitable space with some amenities during the day. It is open to everyone-not only the homeless-and in addition to a cup of coffee or water, people can access a phone, fax or computer to check job postings or stay connected with family and friends. There is a washing machine and dryer available for use on an advanced sign up basis. There is food donated by volunteers to eat at lunchtime. A "tailgate dinner" is served every Saturday and Sunday night by several different church and civic groups in a rotation. The Hundred Nights address is available for use as a mail-drop location for anyone who needs it. This affords our guests a physical address for listing on ID applications, employment applications, etc. We have created a fund to pay for ID's for those in need, as it is not possible to get a job or vote without an ID. We work with various groups who provide services to homeless vets. Over the last few years we have developed afternoon programs in subjects ranging from anger management to woodworking, and encourage people to broaden their horizons, not simply "hang out", although there is no doubt that in the coldest months our homeless friends do need a warm place to go.


To learn more about Hundred Nights, Inc. visit their website:
Source: Hundred Nights, Inc.'s Website, a United Way Agency.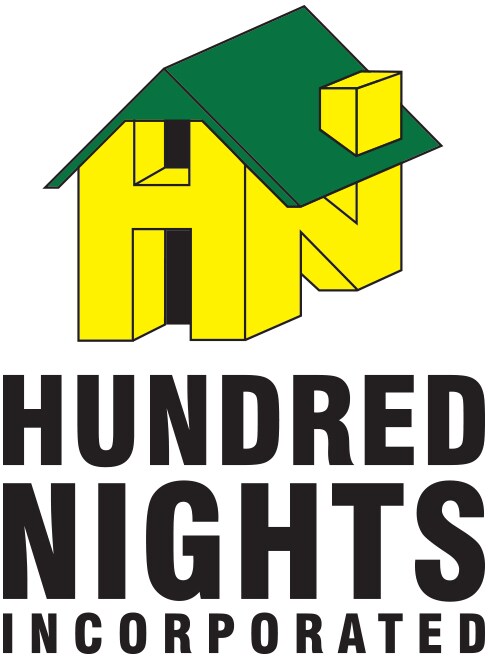 Last Years' Hometown Charity Results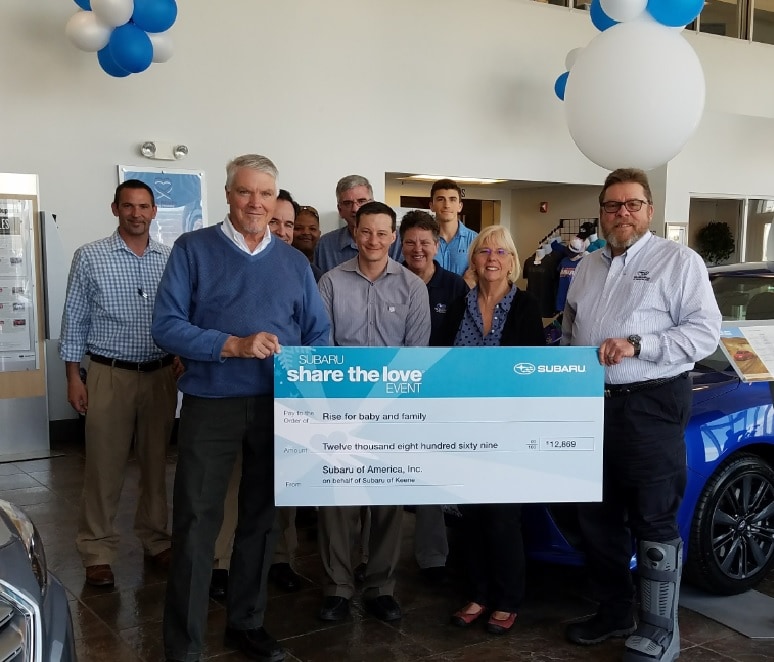 As a result of last year's Share the Love event we, along with the help of our many customers and Subaru of America, Inc. were able to present
Rise... for Baby and Family a check for
$12,869!
Help us to do this again for Keene's Hundred Nights Inc.!
Hours
Monday

8:00AM - 7:00PM

Tuesday

8:00AM - 7:00PM

Wednesday

8:00AM - 7:00PM

Thursday

8:00AM - 7:00PM

Friday

8:00AM - 7:00PM

Saturday

8:00AM - 5:00PM

Sunday

Closed
National Charities
Frequently Asked Questions
How do I select the charity or charities I want to receive the donation?
You can make your charity selection by clicking on the "Select Your Charities" link above. You will be asked to provide your name, contact information, Vehicle Identification Number (VIN), and charity selection(s). Subaru will then make the donation on your behalf. Visit www.subaru.com/share to learn more about the program and participating charities.
What if I want to split the donation (i.e., select more than one charity) or vote more than once?
Each customer who has purchased or leased a new Subaru (2017 or 2018) can either allocate the $250 donation to one charity or split it among any number of participating charities. Only one donation (of $250) is made per vehicle sale or lease. If any portion of the donation is designated to the participating retailer hometown charity, then the additional retailer donation amounts will apply.
How long do I have to make the charity selection?
While we encourage customers to make their charity selection at the retailer at the time of purchase, selections will be accepted through January 31, 2018.
I bought a car, but forgot to submit my charity selection. Where does my money go?
For those who do not make their charity selection by January 31, 2018, Subaru will distribute the donation equally among any participating Hometown Charities.
How will I know that the donation was made?
You will receive a "thank you" letter from Subaru and the charities that received your donation once all of the submissions have been processed. Customers who do not make their charity selection by January 31, 2018, will receive a letter from Subaru thanking them for their purchase.
By what date will Subaru make the donations to each charity? How much money is expected to be donated?
Subaru will make the donation to each charity by March 1, 2018. During last year's Share the Love Event, Subaru donated $15 million and plans to donate $15 million again this year. In this, our eighth year, the total donated by Subaru and its retailers will reach over $65 million.
Do I get a tax credit for this donation?
Because the donation is being made by Subaru to each of the participating charities, donations are not tax-deductible to purchasers.
Why do some retailers have four charity options and others have more charity options?
This year, Subaru of America offered the retailer community an optional opportunity to select up to two charities, local to their community, to join the four national charities in the Share the Love Event. While some retailers are participating in this option, others chose to participate solely with the four national charities.
Make an Inquiry