With the Subaru Outback having just been remodeled in 2015, we likely won't see any drastic changes to the body or drive-line until 2018 or so. However, Subaru is debuting it Reverse Auto-Braking sensing system that helps drivers avoid an accident while backing up.
The system utilizes four ultrasonic sonar sensors found along the back bumper. These sensors pick up sounds waves that bounce off objects nearby; think of your Outback as having bat-like superpowers that activate when the backup camera or your own sight falls short.
We will also see the debut of Subaru's High Beam Assist in both the 2017 Outback as well as the 2017 Legacy (also available in Summer of 16').  This system works with Subaru's Eyesight technology to automatically change the high beams to low beams when an oncoming vehicle is detected.
We do see one major trim change to the 2017 Outback: the addition of a stunning Touring trim level (featured above and below) that features a new Brilliant Brown exterior color option (my new personal favorite!). This can then be paired with the new satisfying Java Brown, dark leather interior option. Watch out, Jared; diamonds aren't the only thing sporting the chocolate-look. A dark gray grille and dark gray accents on the 18" wheels of the Outback Touring further enhance the cool new look and feel it exudes without sacrificing the award-winning durability and off-road performance the Outback was founded on.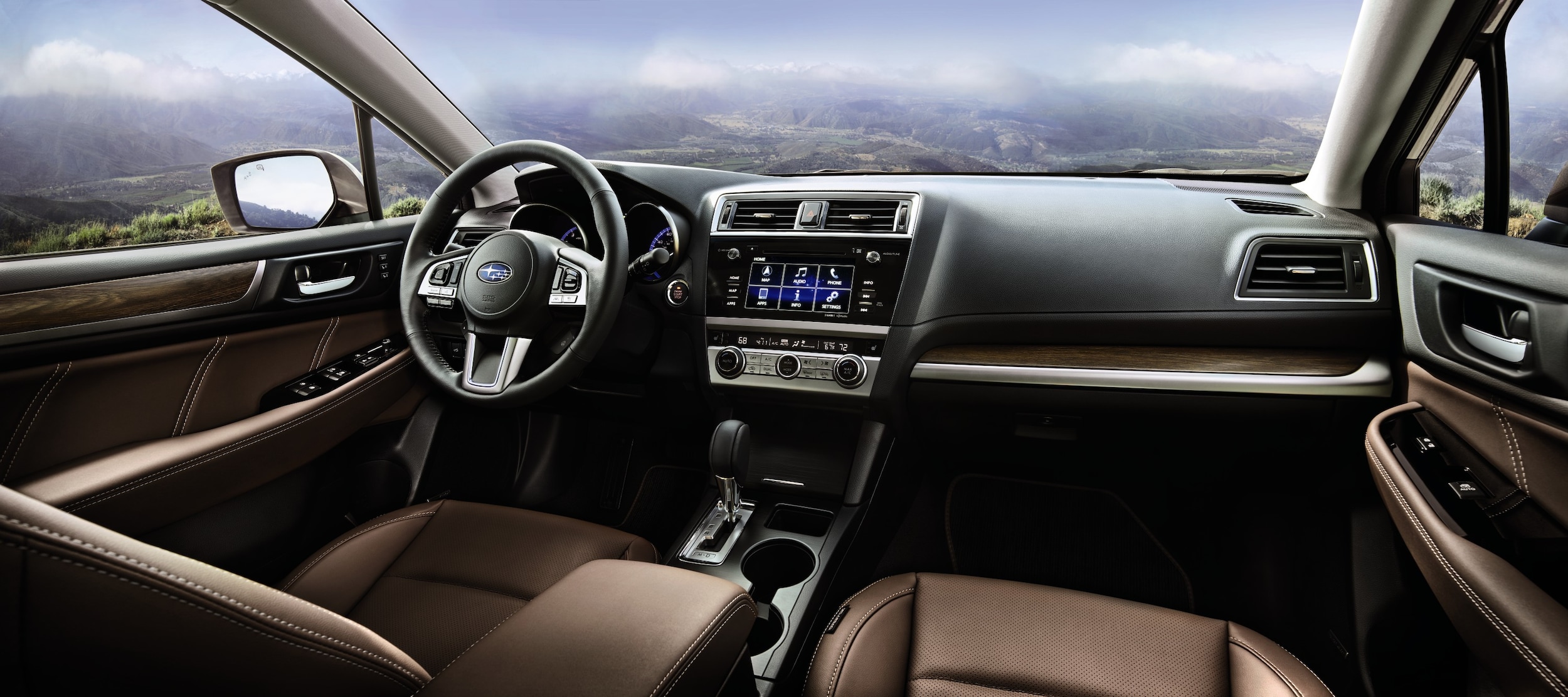 Interior view of the all new 2017 Subaru Outback Touring featuring Java Brown leather trim and seating.
Other standards to enjoy in the 2017 Outback Touring include a heated steering wheel, a 7" audio touchscreen (with a complimentary 1-year subscription to Subaru Star Link's Safety Plus package), Navigation (with a complimentary 3-yr map updating service), and silver low profile roof rails with the option to move from the standard 2.5 liter 175 hp 4 cylinder boxer engine to the 3.6 liter, 256 hp 6 cylinder boxer engine.

At Subaru of Keene, we look forward to serving you, our valued customer, for years to come. Please stop by our dealership, located at 11 Production Ave in Keene, NH and speak with one of our professional sales or service representatives today!